Updated June 14. Added results for W3 Total Cache using Disk Enhanced caching only at the request of Frederick Townes, author of W3 Total Cache. I ran tests with both "gzip" and "gzip and deflate" settings.
I've seen a lot of discussion lately about the various WordPress caching plugins. Here's a quick comparison using Apache Bench. First some background on the test platform.
This is a 512mb VPS from prgmr.com
Fresh install of Ubuntu 10.04
NginX, PHP, MySQL installed via APT (PHP 5.3.2-1ubuntu4.2ppa3~lucid1 (FPM/FastCGI), NginX 0.7.65, MySQL (5.1.41-3ubuntu12.3))
WordPress 2.9.2, standard Kubrick theme, nginx Compatibility plug-in installed.
Plugin Versions:
WP-Cache 2.12
WP Super Cache 0.9.9
W3 Total Cache 0.8.5.2
The following command line was used. The -c and -n flags were modified during different runs as illustrated below.
ab -k -n XXX -c XXX http://testingserver/wordpress/2010/06/hello-world/
-n flag is the total number of requests (this is 1000 unless noted)
-c flag is for the number of concurrent requests
The Results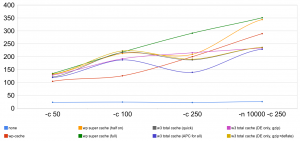 Click for full version
There was no -n 10000 -c 250 run for WordPress with no cache, as it would've taken very long and no further information would be gained.. Updated
Raw Data
50 Concurrent Requests
100 Concurrent Requests
250 Concurrent Requests
250 Concurrent Requests – 10000 Total Requests